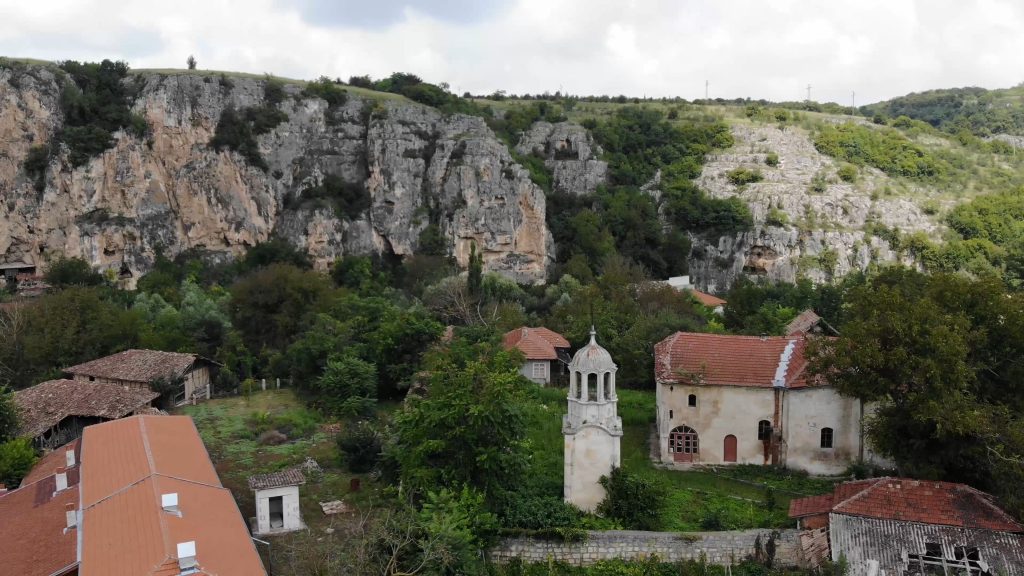 It is said that in the Polomie there is no bigger one than the Big Nisovsky Rock Monastery. It is named after St. Constantine and Helena and dates back to the time, when monasteries were formed in the rock cavities of the canyon of Rusenski Lom tributaries. In the summer, the path to the monastery is hidden by the sprouting grasses but for enthusiasts it is not a difficulty that can stop them.
There is no asphalt, parking or eating area near the monastery. The route is starting from the bridge over Mali Lom river at the end of the village of Nisovo and takes about an hour and a half against the stream on the right river bank. Most of the time, along the river, it is passable by bicycle, but occasionally cyclists have to go by foot.
The monastery is visible high above the meadow by the river. It is reached by a dizzying staircase carved into the rock. The remains are a temple with two buried stone tombs and cells as extensions of existing niches. The crevices, in which the monks have hung wooden structures, can still be seen there. The remains of the medieval mural have been researched by the archaeologist Karel Shkorpil, but in modern times scientists have paid no special attention to it.
The Big Nisovsky Rock Monastery was probably created as early as the XI century. Legends tell of Father Paul, who tirelessly copied books with the help of painters from the area. Finally, even Tsar Ivan-Assen II visited the monastery and this is quite possible, since the ruler was a guest of all the monasteries in Polomie.
To the north, on the right bank of Mali Lom, is the Little Nisovsky Monastery. Its rocky cells and steps up are destroyed. The church can be reached only if you are a brave climber and have the necessary insurance.